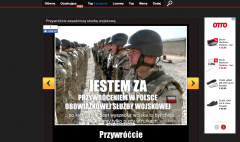 Polak jest niewolnikiem. To nie teoria spiskowa, lecz fakt zapisany w oficjalnych dokumentach. Polak jest własnością organizacji, która w każdej chwili może bez powodu zniszczyć mu życie, wystawić go na front jako mięso armatnie albo zmusić do mordowania niewinnych ludzi.
Można to też ująć bardziej w bardziej wygładzone i patetyczne słowa. Jak to na przykład zrobił PiS w swoim projekcie konstytucji: "Zaszczytnym obowiązkiem obywatelskim jest obrona Ojczyzny. Zakres obowiązku służby wojskowej i sposób jej odbywania określa ustawa."
Nie żeby obowiązująca Konstytucja nie nakazywała służby wojskowej. Ale tam przynajmniej nie nazywają tego "zaszczytem". A przede wszystkim uwzględniają możliwość służby zastępczej ze względu na przekonania religijne lub moralne. Obecna konstytucja dopuszcza model armii zawodowej i realizowanie "służby" w rezerwie (z której jednak w każdej chwili państwo może cię wycofać i upomnieć się o pańszczyznę). PiS natomiast zdaje się zmierzać w kierunku przywrócenia obowiązkowej służby wojskowej...
"Zaszczytnym obowiązkiem"... Czy tylko ja tu wyczuwam bezczelne wciskanie kitu i zaklinanie rzeczywistości? Nie tylko masz być niewolnikiem, ale jeszcze się z tego cieszyć! Masz odczuwać dumę, docenić, jak wielki zaszczyt kopnął cię w dupę...
Tyle że nie. Obowiązkowa służba wojskowa jest reliktem przestarzałej mentalności, zupełnie nieprzystającej do współczesnego, otwartego świata. Dla coraz większej liczby ludzi "państwo" przestaje być immanentną częścią ich tożsamości i czymś, za co warto walczyć choćby i dla samej idei... Teraz coraz łatwiej jest po prostu zmienić państwo, z którym wiąże się swoje życie. Państwa zaczynają być w naszej mentalności bardziej jak firmy, które na wolnym rynku oferują swoje usługi: zapewnienie mieszkańcom godnego życia, opieki medycznej na wysokim poziomie, poszanowania prawa, zapewnienie wolności, pokoju, etc. etc. Model, w którym to obywatel jest obowiązkowo odpowiedzialny za utrzymanie pokoju, a sam pozbawiany wolności, nie przystaje do rzeczywistości XXI wieku.
Także w kwestiach technicznych model obowiązkowej służby wojskowej nie ma najmniejszego sensu. W czasach, gdy wojny toczy się dronami i całą resztą nowoczesnych technologii? Armia nie tylko nie musi już być liczna, ale co ważniejsze: musi być profesjonalna. Czy taki na przykład ja, z natury nie nadający się wojska, po pół roku przymusowego biegania po poligonie i zabawy karabinem, miałbym dla armii jakąkolwiek wartość poza mięsem armatnim?
Rozpieprzanie ludziom planów na przyszłe parę miesięcy czy lat życia (zwłaszcza jeśli zrobione z dnia na dzień, jak to teoretycznie jest możliwe) po prostu się nie opłaca. Zamykało by się w koszarach ludzi, którzy nie mają żadnej motywacji, by tam być, którzy nie wnoszą do wojska zbyt wielkiej wartości, a którzy sporo kosztują. Nie mówię tylko o żałosnym żołdzie. Ale zamiast przymusowo bawić się w żołnierzyki, mogliby w tym czasie robić biznesy, pracować, produkować, edukować się, wychowywać dzieci...
Ponoć pobyt w wojsku opłaca się samemu przymuszonemu – bo "armia zrobi z niego mężczyznę", bo jakby była obowiązkowa służba wojskowa, to poznikałyby "te pedały w rurkach"... Fakty jednak są takie, że armia rzadko zmieniała kogoś na lepsze, a tylko niszczyła młodym chłopakom najlepsze lata ich życia. Fakty są też takie, że w rurkach nie ma nic złego – wręcz przeciwnie: wyglądają sexy, podkreślają nogi, tyłek i zawartość bokserek. Gdyby wojsko rzeczywiście miało wpływać na to, co faceci noszą na co dzień, moda tylko by na tym straciła.
Nic mnie chyba w kwestii armii bardziej nie wkurza niż ludzie, którzy chcieliby innych wysłać na pobór, podczas gdy im samym to nie grozi. Bo jeśli osobiście lubią militaria, mile wspominają swoją własną służbę wojskową, i myślą, że innym ona też wyjdzie na dobre, no to są zwyczajnie głupi. Zakładanie, że dla każdego dobre jest to samo, to czysty idiotyzm. Natomiast w przypadku kobiet, które siedzą sobie wygodnie i bezpiecznie w fotelu, domagając się, by wszyscy faceci przymusowo trafili w poligon – to już czysta wredność i hipokryzja...
Nie zamierzam umierać za czyjeś interesy, za czyjeś poczucie estetyki (rurki ❤️), za czyjeś wyobrażenia męskości, ani za czyjąś podłość. Nie zamierzam zmarnować mojego jedynego życia na cudze fanaberie.