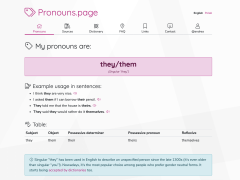 We all have pronouns. They're those words that we use instead of calling someone by their name every time we mention them. Most people use "he/him" and "she/her", so we automatically assume which one to call them based on someone's looks. But it's actually not that simple…
Gender is complicated. Some people "don't look like" their gender. Some prefer being called in a different way from what you'd assume. Some people don't fit into the boxes of "male" or "female" and prefer more neutral language.
This tool lets you share a link to your pronouns, with example sentences, so that you can show people how you like to be called.