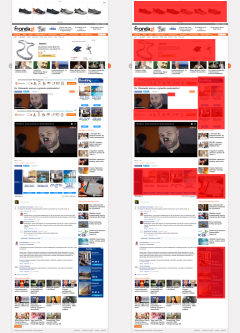 I'm curious how does the Internet really look like.
Like in case of those religious fanatics in the screenshot above. You can tell they don't have any respect for the reader whatsoever – not only from the pathetic content they serve, but also from the fact, that the advertisement takes up almost a half of their page. It's like covering crap with some money-making crap and expecting nobody to notice you just want to screw them over.
Those ads also happen to be ironically funny. Nothing better than watching a movie about homosexuals being possessed be demons, when it's surrounded by adverts of some gay hotels in Gran Canaria...
The ads tell you a lot about the website and whether or not it's even worth browsing. Whether its creators run it with passion, commitment and thoroughness, or is it just a cheap publicity stunt aimed at raking in some cash for as little effort as possible.
Ads help you recognise scam and epicentres of viruses – even if somebody doesn't fall for them, their authors pack them up with nasty adverts, in hope that they'll at least make money that way.
Obviously, how much and what kind of adverts somebody runs on their website, doesn't necessarily determine the quality of its content or maliciousness of their intentions. But it's a damn good indicator. An indicator that AdBlock takes away from you.
And you know what? Life without AdBlock isn't that bad. I noticed that while browsing the Internet on my smartphone and smart TV (where I never had any ad blocker in the first place). I didn't see that much difference! It's not how it used to be five or ten years ago, when ads could've made your eyes bleed. Nowadays, at least on the neat websites, they tend to be subdued, few, and personalised – suggesting you stuff that you might actually care about. I could live with that.
And most importantly: unblocking ads is a perfect way of paying the author back for providing you with their awesome free content. Appreciate that :)