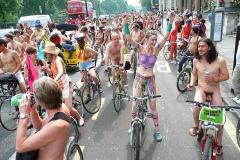 Naturyzm nie jest wyłącznie hasaniem sobie nago po plaży, nie ma też wiele wspólnego z seksem. Naturyzm jest filozofią, jest kulturą, jest stylem życia. Jest podejściem do natury, do innych ludzi, ale także do samego siebie. Jest ucieleśnieniem żądzy wolności. Wolność to to, o co w tym wszystkim chodzi. Choćby nawet i symbolicznie.
Komu na plaży w upalny dzień albo w saunie są potrzebne jakiekolwiek ubrania? Czy jest jakiś praktyczny powód ku temu? Czemu zasłaniamy niektóre części ciała, czemu tak wstydliwie do nich podchodzimy? Czemu wstydzimy się swojego ciała? Czy jest w nim coś złego? Nie! To tylko kultura narzuca nam ograniczenia! Bariery, które czasem bywają zbędne albo wręcz irracjonalne.
Istnieje wiele różnych zasad, które nas ograniczają, mimo że nie zawsze są dla nas dobre. Ogranicza nas złe prawo (jak choćby bezsensowny zakaz picia piwa w parku), polityka, rozmaite sytuacje życiowe... Kultura to tylko jedna spośród wielu takich dziedzin. A w niej, między całą masą innych, krępuje nas tabu ubioru. Złego prawa w źle rządzonym kraju łatwo zmienić się nie da. Wielowiekowej kultury tym bardziej. Ale można zrobić coś, dzięki czemu choć symbolicznie wyrazi się siebie, swój bunt, swojego ducha wolności – zerwać więzy tekstylnego tabu.
Na nagich plażach (z reguły) nikt nie ocenia. Nikt się nie gapi, nikt nie zabrania, nikt się nie wtrąca. Nie komentuje rozmiarów cudzego przyrodzenia czy jędrności cudzych piersi. To nie pornos, tylko relaks. I to jest piękne! Ludzie chcą po prostu miło spędzić czas, taplając się w słonku i w wodzie. Nie ma się tam czym krępować, czego obawiać. Wśród prawdziwych naturystów (bo niewątpliwie zaglądają tam także i napaleńcy-oglądacze, niestety) czuć, że łączy ich nie tylko brak stroju, lecz przede wszystkim (i to zdecydowanie bardziej) – wspólne spojrzenie na kulturę, społeczeństwo i wolność.
Nagość nie musi być seksualna! Nagość nie musi być tabu! Nagość sama w sobie potrafi odprężyć, pomaga zwiększyć pewność siebie, szacunek do swojego ciała, do siebie, do innych i do świata... Nagość pozwala zmienić hierarchię wartości, pozbyć się lęku i wstydu, docenić to, co się posiada... Nagość jest piękna...